These Smart Medical IDs Save Lives…
Now, Anyone Can Try One, Free!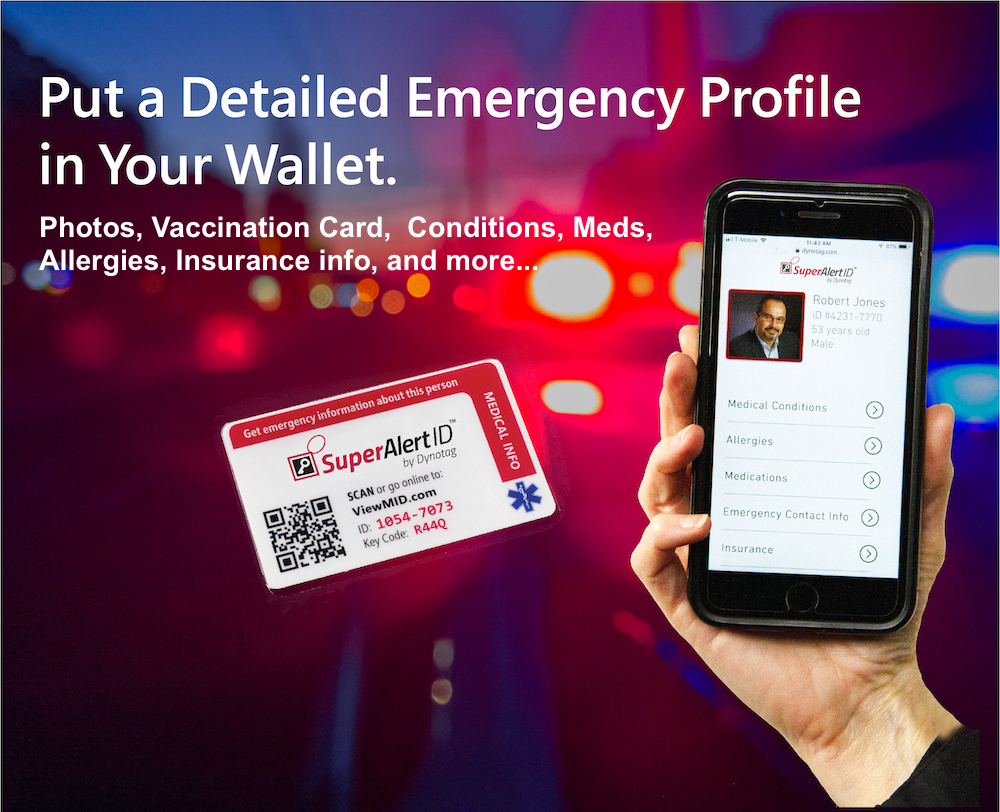 It's always smart to carry your medical and emergency information with you. But never more than now…
Make sure EMS and medical personnel can quickly get vital information they need to care for you. Carry a SuperAlert ID™ Smart Medical ID card in your wallet.
Dynotag's patented system lets you create a secure online emergency medical profile.
In times of need, enabling First Responders to open your detailed profile on any smartphone, tablet or computer in seconds, these Smart Medical IDs literally help save lives!
Designed with input from First Responders, the emergency medical profile includes:
Who you are
Vital medical conditions
Emergency contacts
Allergies, medications and vaccinations (with photos of cards. prescriptions, etc.)
Doctors and providers
Insurance info, and more…
And your profile can easily be updated whenever your information changes.
Best of all, these Smart Medical IDs come with lifetime subscription and lifetime replacement warranty – included in the purchase. No recurring subscriptions…
Now, everyone can try these amazing Smart Medical IDs at absolutely zero risk, with no credit card or up front payments of any kind.

1) Click the button below to request a fully functional Medical ID Wallet Card by USPS First Class Mail – absolutely free, with complimentary shipping.
2) Use it for six months, then, decide to keep it active for life – with a single payment of $24.95 – or pass it on to a friend or loved one for them to try out.
Initially, we are offering this program in the U.S. only, with the intent of expanding globally in the coming months.

Get yours, and share the GetSuperIDs.com website with friends and loved ones. They will thank you!
---
SuperIDs™ by Dynotag.
Touching lives around the world since 2011.
✮✮✮✮✮ TB, USA – Great for peace of mind
The tags were easy to set up and the website easy to use. Overall, I am very pleased with this product.
✮✮✮✮✮ C. Pantano, USA Help emergency personnel
Like. Give you peace of mind
✮✮✮✮✮ B, Grammy, USA – Must Have
I got these for my granddaughters. They are awesome, because you can put ALL medical info on the website so that if anyone has to access it, they can see that one of them suffers from seizures, & has the doctor info.
✮✮✮✮✮ Kindle. C, USA – Great product!
I am really impressed with these tags. They were very easy to set up and worked when scanned a few seconds after I had saved the information on my computer. I was able to put my son's photo, medical history, allergies, contact info, insurance information, etc. on the tag and attach it to his keychain. He has severe antibiotic allergies and it is nice to know that information is immediately available if he is ever in a wreck and cannot communicate with emergency responders. A+
✮✮✮✮✮ M. O'Brien, USA – Five Stars
like 'em so much, got some more!!
✮✮✮✮✮ Jennifer, USA – Peace of Mind
This is such a wonderful idea! These tags seem very sturdy and well made. They are password protected so not just anyone can scan your information.